Jurassic World: Dominion Dominates Fandom Wikis - The Loop
Play Sound
"The music we released in the past, it's more like teeny-bopper [...] I feel like this year we want our music to relate with everyone, we want everybody to vibe with our music."
― Drew Ramos[1]
"Crazy AF" is the sixth single recorded by In Real Life, released through Hollywood Records on March 22, 2019.[2] They performed a bit of the song on The Adam Bomb Show.[3] A few clips of the single were also revealed in their YouTube video, "IRL VLOGS: CRAZY Week" early in February 2019. In June 2019, it reached Top 40 on pop radio.[4]
Sergio Calderon discussed the reason they wanted to put it out first was because "it was something that was a good representation of the new direction we want to go with in terms of our music." Brady Tutton described it being a progression to their song "She Do", sonically.[5]
Background
The song was recorded in the fall in 2018, Chance Perez describing the process as "organic".[6][5] Drew Ramos revealed that the rest of the songs were recorded in a professional studio, while on this track, the band worked in the studio with the producer, Rykeyz.[1] The music video premiered on April 4, 2019, which shows the band at a pool party.[7] Despite it looking like summer, Calderon stated that it was cold outside.[8]
Similar to their single, "How Badly", fans were chosen to listen to the unreleased music video at the time. In order to qualify, fans must have sent a video with the reason why they should be picked. Only twenty people could be selected, with Wednesday being the last day for entries (giving people four days) and were DM'd over Instagram if picked. On Saturday (March 9, 2019), they attended the event which included early previews of two songs, "She Do" being one of them.[9] It was mainly for Los Angeles Lifelines, due to expenses not being paid for but still open to everyone.
On March 10, 2019, In Real Life posted a snippet of the song and later it was available to pre-save on Spotify and Apple Music.[10][11] In celebration, fans tweeted with the hashtag #CrazyForIRL and the band made confessions under the tag #CrazyAFConfessional. When "Crazy AF" became available everywhere, there was a sale with all apparel 50% off for 24 hours over their official website.[12]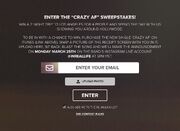 On March 21, 2019, the single premiered over 102.7 KIIS FM at nine[13] and was announced IRL will perform a free concert on March 23rd at the Universal CityWalk, debuting their song, which parallels back to their first performance as a band with their single, "Eyes Closed" (2017). They performed at the Famous Birthdays office on July 24, 2019,[14] and at the Dunkin' Donuts Lounge.[15] It was also included in their set list for the For U Tour. At 9 P.M PST, In Real Life held a sweepstakes from March 23-25 eligible for fans who were legal residents in the United States and the District of Columbia. On March 25th, the band chose the winner but a day after announced who they were over an Instagram live.[16] Despite it being announced for one winner, over the livestream Ramos stated that three people received emails.
Composition
On the Tonight Belongs to You Tour, after opening for American Idol, they heard the demo in Anaheim (September 28, 2018), and were about to perform. One of their managers shared a Marc Bassy demo, and played it for Tutton in the car. The group loved it, and Conor Smith immediately wrote the verse on the tour bus, inspired. In regards to it being their first explicit song, Smith shared, "I don't think it was that much of a transition. I think if anything, it was like you know what, we feel like we've kind of been hiding that side from our fans and from the public, I guess." He added, "I think it was a lot more fun to record it, 'cause we were really excited about the song. It was something that was just way different from us, and we felt so inspired by it, we felt like we were really doing something."
The song was written by Ayanna Howard, Conor Michael Smith, Marc Bassy, and Ryan Williamson. Lyrically, it tells the story of a possessive girlfriend that they can't help but fall in love with.[5]
Trivia
★ It is the first single In Real Life released in 2019, as well as explicit.
★ Due to the particular lyric, 'Every time we play in the sheets,' fans have dubbed it as "the Sheets song".
★ The cover artwork is done by Thomas Crane, who also made it for "Got Me Good".[17]
★ It is the first released single where Brady Tutton starts the song.
★ It has been a running joke in the fandom that Sergio Calderon says "beckfast" instead of "breakfast".
Gallery
Screencaps
Images
Videos
Lyrics
Original
Acoustic
Radio edit
References
In Real Life
Studio albums
EPs
Singles
Unreleased songs
Covers
Magazines
Radio
TV and award shows
Live performances
Concert tours
Related articles
Category